Thank you for partnering with us and helping to promote AWE EU 2019. Together, we can support and unite the global AR/VR community!
View the AWE EU 2019 Partnership Prospectus
This portal is designed to provide you with visual and copy assets to use in spreading the word about AWE EU 2019. If you have any questions or require additional information, please do not hesitate to contact me at efriedman@brainxchange.events.


Table of contents


What's current with AWE
Regular ticket prices are in effect. That means the ONLY discounts in circulation are with our partners and speakers.

Partners who have submitted logos will soon be published on the

Sponsors & Partners

page. If any of the information is wrong or a link is broken, please let me know.

All partners are entitled to 3 complimentary tickets to AWE EU 2019. You will receive these along with a discount code to share with your communities.

Please let your followers know you're an AWE partner

with this easy tweet (just click to tweet)!

Please be aware that companies or organizations NOT affiliated with AWE may contact you to try and sell products or services that may not be legitimate. AWE is NOT affiliated with any LIST SALES companies. Unfortunately, with an event as large as AWE, unauthorized third-party organizations offer to sell what they claim is a list of AWE attendees. We do not partner or make such lists available to any companies.
Event details
2019 is the 4th annual AWE EU!
Dates: 17-18 October, 2019
Location: MOC Exhibition Center in Munich, Germany
Focus: Augmented Reality (AR), Virtual Reality (VR), Mixed Reality (MR) and enabling emerging technologies (5G, AI, etc.)
Official event site:

http://www.awexr.com/eu-2019/

Social accounts:

Useful links:
General copy for AWE EU 2019
Enter the next dimension of spatial computing at AWE EU 2019! AWE is the place for the AR/VR industry to do business. Top innovators - from the hottest startups to Fortune 500 companies - are gathering to showcase cutting-edge AR/VR experiences in all aspects of life and work. See you in Munich 17-18 October!
The 4th AWE EU:
2 days

125+ speakers, 100+ sessions, 100+ exhibitors

2,000+ enterprise buyers, developers, creators, startup founders, investors, top press, and you!

Topics covered: Enterprise use cases and best practices, latest developer/creator tools, sales, marketing and brand experiences, AR Cloud, WebXR, 5G & AI, privacy and ethics, and more
Hear from those solving major technical challenges, bringing AR/VR into new sectors, and working on the cutting edge of AR/VR development at AWE EU 2019 17-18 October in Munich, Germany!


Visual assets for AWE EU 2019
Right click image and select "Save As" to download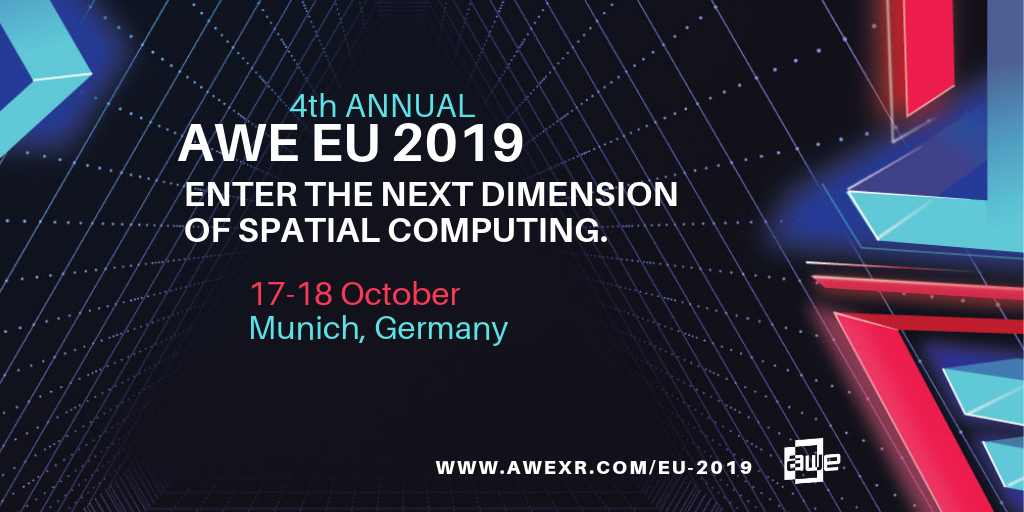 Forms

Please provide the following for your partner profile. Your logo will appear on the Sponsors & Partners page of the AWE EU 2019 website. Selecting the logo will take site visitors to your profile page. See a past example: